Jones Beach Theater Information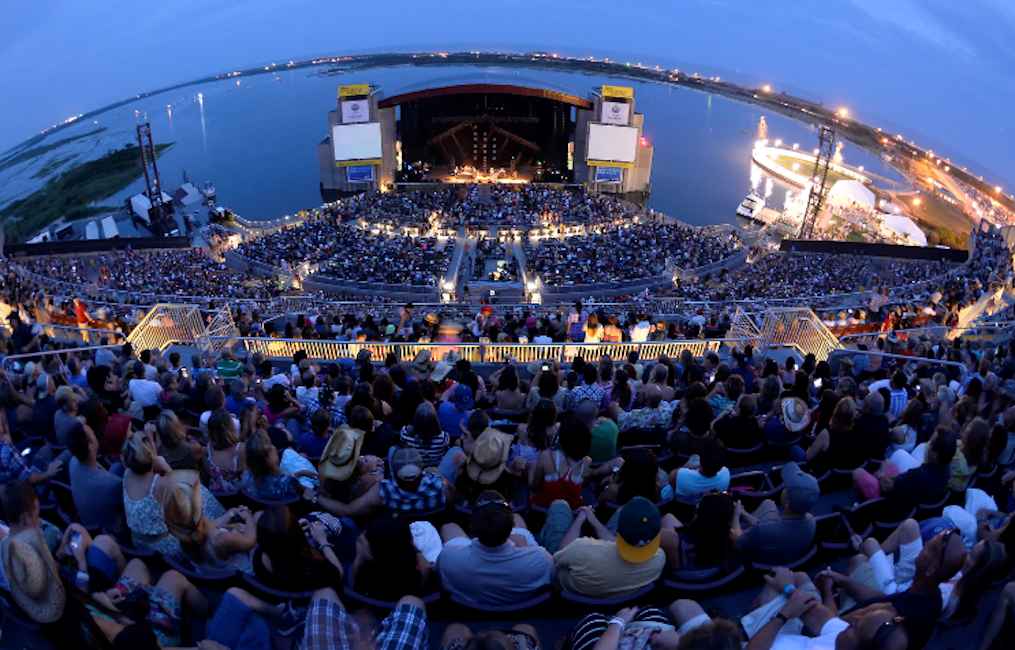 Northwell Health at Jones Beach Theater, commonly known as simply "Jones Beach Theater" is an outdoor amphitheater at Jones Beach State Park in Wantagh, New York. The venue is one of two major outdoor arenas in New York's metropolitan area along with the PNC Bank Arts Center. The venue was designed by Robert Moses, who was also responsible for creating Jones Beach State Park.
The venue was originally opened in June 1952 as the New Jones Beach Marine Stadium, with a performance space that had 8,200 seats and focused primarily on musicals. The venue had several boxes that were designated for his use and often featured performances from his friend Guy Lombardo. When the venue opened, the first performance was the operetta A Night in Venice by Johann Strauss II and was an extravaganza that featured floating gondolas and the talents of Enzo Stuarti among others.
Over time, the venue came under contract from concert promoter Ron Delsener in 1991 and 1992, where it then underwent extensive renovations to add a second level and increased capacity to 11,200. In 1998, six short years later, it underwent another revision that increased capacity to its current 15,000 seat number.
Further renovations came to the venue, including one of the most recent in January 2017, that added energy-efficient LED lighting, more cafes, larger concourses to reduce crowding, and several other quality of life features. Simply put, what began as a water-based performance venue has become one of the most hotly desired performance spaces by both fans and musical talent, including Jimmy Buffett and Aerosmith who played at the venue around 30 and 21 times respectively.
See the links below for more information on the Northwell Health at Jones Beach Theater:
Jones Beach Theater Parking:
Find out more about parking at the Jones Beach Theater.
Ticket Policies:
Read about our ticket guarantees and strict ticket verification policies.
Jones Beach Theater Seating Chart:
View the Northwell Health at Jones Beach Theater seating chart and read seating information.