Jones Beach Theater Information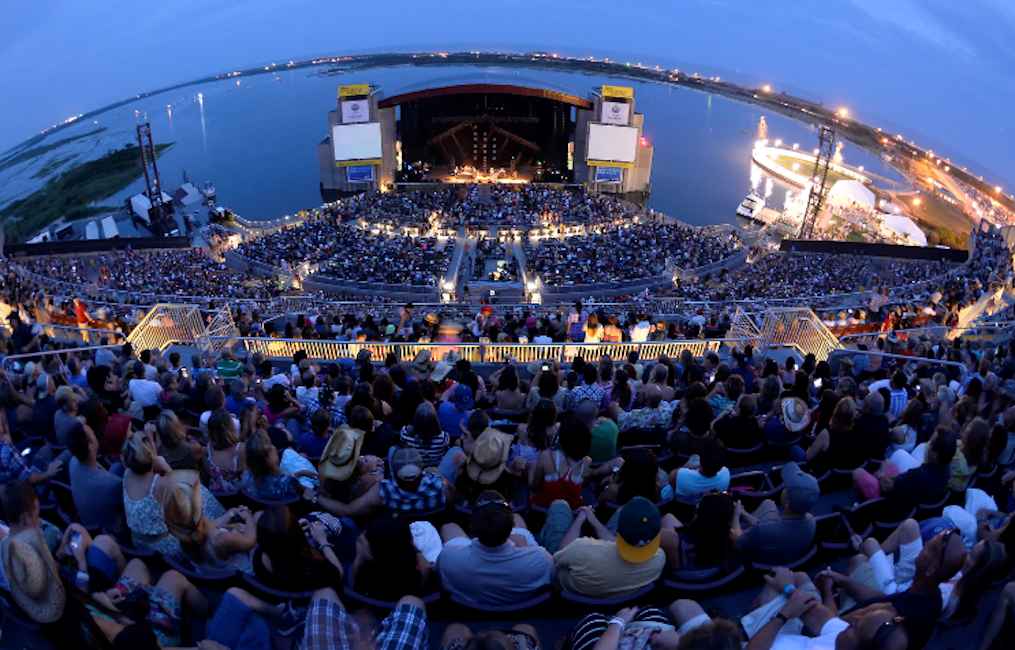 Northwell Health at Jones Beach Theater, commonly known as simply "Jones Beach Theater" is an outdoor amphitheater at Jones Beach State Park in Wantagh, New York. The venue is one of two major outdoor arenas in New York's metropolitan area along with the PNC Bank Arts Center. The venue was designed by Robert Moses, who was also responsible for creating Jones Beach State Park.
Northwell Health at Jones Beach Theater wishes that all concert-goers have a great time here. Assistance is provided if you need it at the guest service booth, which you'll find on the red bricked plaza near the main entry gate.
About Jones Beach Theater
The amphitheater offers 15,000 allocated seats, which are all open-air. Some seats at the back of the stadium area are covered by the overhang of the mezzanine level.
Jones Beach Theater is designed in a fan shape layout, climbing fairly steeply upwards. As it's outdoors, the sound quality isn't always consistent, but the views are amazing.
This is an outstanding facility where families are welcomed, so please be nice and observe the general code of conduct. This means not using foul language or offensive signals, not wearing clothing with offensive slogans or behaving irresponsibly when consuming alcoholic beverages.
Management reserves the right to refuse entry or eject from the theater anyone behaving inappropriately. This includes fighting, being abusive, throwing missiles or attempting to climb onto the stage.
Jones Beach Theater Location
You'll find Jones Beach Theater in Nassau County, Long Island. It's about 41 miles southeast of New York City, at 895 Bay Pkwy, Wantagh, NY 11793. Jones Beach Theater is in an easily accessed location, close to the junction of Wantagh State Parkway and Ocean Parkway.
Jones Beach Theater History
Jones Beach Theater was designed by the creator of Jones Beach State Park, a prominent 20th century urban planner called Robert Moses. It first opened in 1952 with the jaw-breaking name of New Jones Beach Marine Stadium, which was soon shortened. The amphitheater originally had just 8,200 seats and was designed to host musical extravaganzas. It underwent extensive renovations in the early 1990s, with a second stadium level that increased the seating capacity to 11,200. This was extended again in 1998 to its present capacity of 15,000 seats.
The original Jones Beach Theater was something of a personal perk for Robert Moses, whose friend Guy Lombardo was a frequent performer. Moses reserved several boxes for his own use, and performances in those years were heavily water-based. Lombardo even used to enter the arena by boat. The stage was originally built just back from the beach on Zach's Bay, with an underwater tunnel entrance and a moat. Musical extravaganzas often featured floating scenery, and Guy Lombardo's Orchestra would sail around on a yacht playing tunes during intermissions. The earliest renovations replaced the moat with extra seating, closer to the stage.
After Lombardo's final show in 1977, the theater continued to present musical shows, but in the 1980s the focus switched to concerts. Jones Beach Theater began to acquire sponsors, as the naming rights were sold. It became successively the Tommy Hilfiger at Jones Beach Theater in 2002 and the Nikon at Jones Beach Theater in 2006.
Northwell Health purchased the naming rights in 2016.
Jones Beach Theater suffered major damage from Hurricane Sandy in 2012, with many parts destroyed and/or flooded. A $20 million rehabilitation project allowed the amphitheater to reopen the following May, and a further $1 million was spent in 2017 to install energy-efficient LED lighting. The concourses were also enlarged to reduce crowding, and more cafes were opened.
Jones Beach Theater has hosted many famous performers over the years, including Bon Jovi, the Beach Boys and Bruce Springsteen. Regular performers here are Jimmy Buffett, Aerosmith and James Taylor.
What Makes Jones Beach Theater Special?
Everything about Jones Beach Theater is special, from its awesome setting to the headline bands you'll see there. It has easy access from New York City via the Long Island Expressway (LIE or I-495) and Wantagh State Parkway. You can also get there on Route 27 and Meadowbrook State Parkway.
Jones Beach Theater offers loads of parking around the area, with some designated VIP and ADA parking. General parking is free, but you'll have to pay for VIP lots.
Tailgating used to be allowed, but it's now prohibited at Jones Beach Theater under New York State Parks policy. Some people still tailgate, but heavy fines are imposed if you're caught.
Who owns Jones Beach Theater?
The Jones Beach Theater is owned by New York State, and falls under their remit for historic preservation.
See the links below for more information on the Northwell Health at Jones Beach Theater:
Jones Beach Theater Parking:
Find out more about parking at the Jones Beach Theater.
Ticket Policies:
Read about our ticket guarantees and strict ticket verification policies.
Jones Beach Theater Seating Chart:
View the Northwell Health at Jones Beach Theater seating chart and read seating information.