Jones Beach Theater Seating Chart
The Jones Beach Theater features four levels of seating, from the orchestra section nearest to the stage, two stadium seating sections, and the rearmost mezzanine levels. Each seating section features comfortable and reupholstered outdoor stadium-style seats with cushions and armrests. Though careful sound systems and lighting give a grew view of the stage at all levels. Mezzanine and stadium section seating should plan to bring binoculars for the best possible view of the musicians.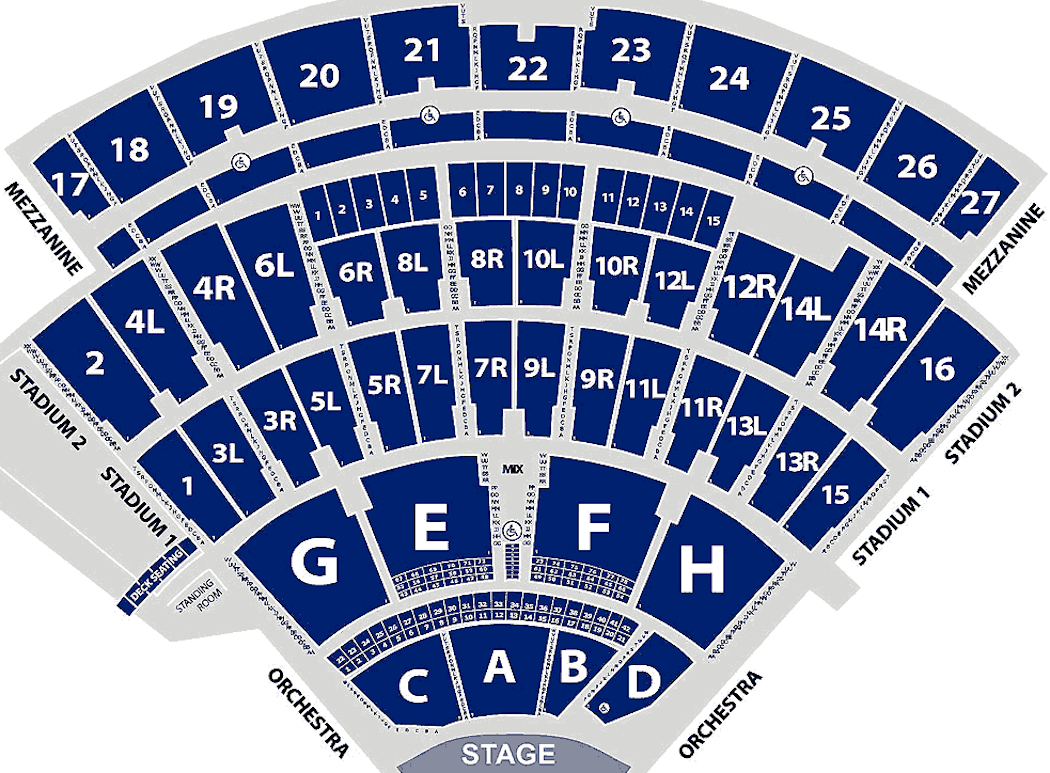 Accessibility seating is available at all levels and price ranges as depicted in the attached photo.
Jones Beach Theater is a totally open-air, outdoor amphitheater. There's no roof covering, apart from a bit of shelter under the Mezzanine level overhand. You should study the weather forecast before you go, and wear appropriate clothing. You'll need protection against the sun and wind, and maybe rain. In the event of severe weather, shows will be canceled.
Please note that seating charts may vary for different performers. Always check the seat layout for your desired concert when choosing your tickets.
Accessible Seating
Accessible seating is available in every price range, situated at various points around the amphitheater. This occasionally sells out quickly, and only very limited accessible seating is available on the day of the concert. All accessible seating comes with one companion seat.
Accessible spaces on the Orchestra level, are situated to the side of section G on the right of the stage, and in the middle between sections E and F. Additional ADA seating can be found on the Mezzanine level, situated in Row E in sections 19, 21, 23 and 25.
Assisted listening devices are available on prior request, giving the theater at least 2 days notice to arrange them for you. You may also arrange for an interpreter service, but for this you'll need to give at least 2 weeks notice. Please call 1-800-745-3000 if you wish to use these services.
All bathrooms, merchandise stands and concession stands are ADA accessible.
Jones Beach Theater Seating Options
Jones Beach Theater offers four levels of seating. Nearest to the stage is the Orchestra level, with two stadium seating levels behind. At the back and raised above the rear of the stadium seats is the Mezzanine level. Each section provides outdoor stadium-style cushioned seats with armrests. You will probably benefit from using binoculars on the Mezzanine and rear stadium section.
Orchestra Level Tickets
Jones Beach Theater Orchestra level is divided into Front Orchestra Sections A to D, containing Rows A through U. Section A is in the center, with C to its right and B and D to its left.
Rear Orchestra Sections E to H contain Rows AA to VV, with E and F in the middle, G to the right of them and H to the left.
Front Orchestra seats are close up against the stage, while Rear Orchestra seats are behind the Boxes. The Orchestra level is flat, so people at the back may struggle to see over those in front of them.
Sometimes Sections A to D will be removed or changed to provide a general admission pit without seats. This will get you right up close to the stage, but it's first come, first served.
Stadium Level Seating
Stadium level seats at Jones Beach Theater are divided into 1 (front) and 2 (rear) levels, but these seats are raked so you'll have a better view. Sections are numbered from right to left.
Stadium 1 seats comprise Rows A to T, with odd numbered sections from 1 to 15. All sections except 1 and 15 are further divided into Left and Right. VIP Club Decks are situated on the outside of these sections, with some standing room below on the right-hand side.
Stadium 2 seats comprise Rows AA to XX, with even numbered sections from 2 to 16, with Right and Left parts for all except 2 and 16.
Mezzanine Level Seating
The Mezzanine level at Jones Beach Theater is numbered from right to left, sequentially from 17 to 27. Rows go from A to V, with an aisle behind Row E to accommodate accessible seating. These seats are the highest and furthest away from the stage. You'll still get good views, but you may need binoculars to get the best advantage. From here you'll be able to see the ocean and the surrounding scenery!
The seats at the front of the Mezzanine level offer better sight-lines and access to amenities. This level hangs over Stadium level seats and Suites, so it's closer to the stage than you might think.
Jones Beach Theater Suites
At the rear of Stadium 2 are 22 Suites, located underneath the Mezzanine level.
Numbered right to left, Suites 1 to 15 are in the center, and Suites 16 to 22 on the left. Each is totally private, with its own bathroom and a separate entrance. Plus, they're completely covered, offering the best option for weather-proof seating. Seats are split into 2 rows, with the restroom, lounge space and catering area (if available) in back.
Suites can hold up to 12 patrons, and can be sold as entire or shared. The entire suite is good for groups, families, etc. If you purchase tickets in a shared suite, a seat will be randomly assigned.
Jones Beach Theater Boxes
Orchestra Boxes are semi-private areas that hold up to 8 patrons. The same seating situation applies to entire or shared Boxes as with Suites. They're in a prime location right behind Orchestra Sections A to D, and in two Rows. Seats are numbered right to left, from 1 to 21 in the front row and 22 to 42 in the rear. A further three rows of boxes are located in front of Sections E and F, numbered right to left.
VIP Club Deck
This is a really exclusive seating option. The Deck provides table seating for enhanced comfort, with in-seat wait service. You also get access to the Club lounge, including upgraded food and beverage choices and private restrooms.
Amenities for Suites and Boxes
For most concerts, tickets to Suites and Boxes give you a private VIP entrance, access to the VIP Club, and elevators to reach suite level. It should also have a full bar and in-seat wait service so you won't have to wait in line. Check the terms and conditions on your tickets to see what amenities are included.
Please note: 2023 health and safety protocols mean that some amenities are subject to change without notice, including club access, food availability and wait service.
Jones Beach Theater Best Seats
All Stadium level sections have clear sight-lines to the stage. You can get a less expensive ticket in a side section which will give you great views of the water instead!
The best seats are in odd-numbered sections lower down, starting about 35 rows back from the stage. Better value tickets can be obtained near the center of even-numbered sections. Sections 8 and 10 offer elevated views that rate them among the best seats in the amphitheater.
NOTE: The seating map may vary for depending on types of events. Always check the seating chart for your individual event when selecting your tickets.
Reserve your seats now by purchasing your tickets today. Visit the Jones Beach Theater schedule to view all upcoming events.
To read more about the ticket and refund policies please check out the ticket information page.