Jones Beach Theater | Wantagh, New York
STOP PRESS! We've got the BEST news on the planet for all ROCK and METAL heads. Starting on July 18 at the Hollywood Casino Amphitheatre in St. Louis, Godsmack and Staind will play a total of 25 cities across North America before wrapping up on August 31 at the Germania Insurance Amphitheatre. These two incredible groups have kept fans entertained with their unique sound and special sauce, so expect to be blown away when they approach the stage and thrill everyone at the Jones Beach Theater. Yup, thats right, they're coming to Wantagh, NY, and you are needed to ROCK OUT with the rest of the rabid fans. All you have to do is grab your tickets by scrolling up above and finding the "GET TICKETS" button. Click that and follow the simple prompts for what will be the most unforgettable time of your life!!!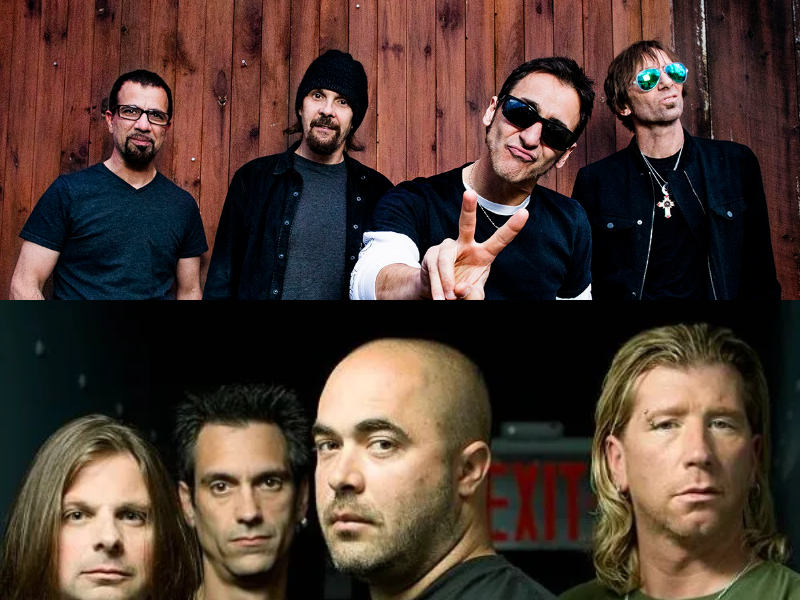 Without LEGENDS like GODSMACK, the world would be an extremely boring place to live but luckily they do. Since their inception in 1995, these guys have felt the HARDROCK pulsing in their veins, and the fans love them to the point that three of their albums, FACELESS, IV, and THE ORACLE, have reached the top spot on the BILLBOARD 200 ALBUM CHARTS in a row.
Godsmack broke onto the scene with their self-titled debut album in 1998, which went quadruple platinum, and have since continued to deliver high-energy performances and chart-topping hits. All told, Godsmack has 25 top ten rock radio hits, and 18 of those made it to the top 5.
Here is some trivia for you, GODSMACK was commissioned to pen a song for the film THE SCORPION KING which they did with incredible success. For 14 weeks in 2002, that song dominated ROCK RADIO as the year's most played active rock single. The video game PRINCE OF PERSIA, WARRIOR WITHIN used this song as well during gameplay.
STAIND, rock legends in their own right, are joining GODSMACK by sharing the stage as co-headliners. Their debut album, titled DYSFUNCTION, became a Heatseekers number one. The album peaked at number 74 on the Billboard 200 album chart, and its singles "JUST GO," "MUDSHOVEL," and "HOME" became the anthems that defined a genre.
They've earned their place at the top of the ROCK food chain thanks to the over 15 million albums they've sold and the success of their seven studio albums and eight top-ten singles. Who can forget about the phenomenal single, "It's Been a While," which has become a modern rock radio staple. As a matter of fact, that single became one of the most played songs in modern rock radio history.
With powerful vocals, heart-pounding drums, and heavy guitar riffs, both of these incredible artists will be ready to take you on a journey of rock awesomeness, and you really can't afford to pass up on this once-in-a-lifetime opportunity. Be sure to grab your tickets right here and now before someone else beats you to them.