Jones Beach Theater | Wantagh, New York
Being locked up for quite some time, one deserves to break free from the conundrum of mundane sounds… Get a burst of exhilarating music that will rock you to the core! Alice in Chains & Breaking Benjamin is a combustible combination, a truly formidable force to reckon with as they go on a co-headlining tour. Catch them at the Jones Beach Theater on Sunday 14th August 2022 Their far-stretching career achievements make them two of the most influential band to date. The moment these bands broke the news, social media was on fire, making this one of the hottest rock concert tickets to date. Break no bones in scoring tickets because all you have to do is click on the 'get tickets' link on this site. Book your tickets now!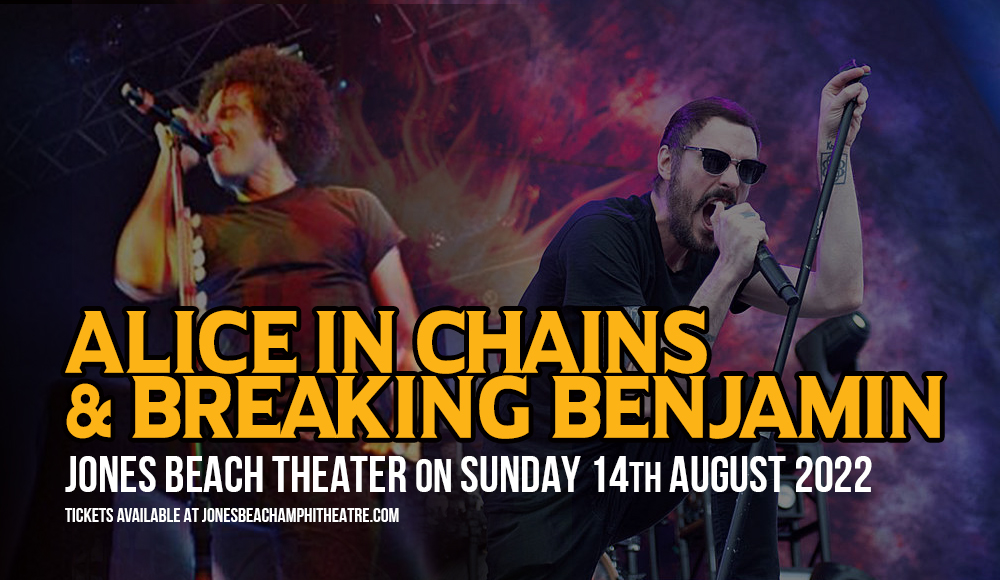 Breaking Benjamin broke into the music scene in 1988 and released their debut album "Asurate" in 2002, which managed to clinch a spot on Billboard's 200 charts. That same year, the band came on board as a supporting act for Godsmack's massive tour. Creative difference and the rigors of commercial success had taken a toll on the band members so they have decided to take on a well-deserved break. Their state of hiatus extended until 2014. After numerous line-up changes, the band was firm to reset and get a fresh start. With this Breaking Benjamin reboot, fans have been unanimous in saying that the current line-up is the best they heard in years. Current members include Benjamin Burnley on guitar and lead vocals, Shaun Foist on drums, Keith Wallen on guitar and backing vocals, Jans Rauch on lead guitar, and Aaron Bruch on bass and backing vocals. The band are known for their angst-laden lyrics and crunchy guitars, most notable on their biggest hits "The Diary of Jane", "Breathe", "Far Away", among others. These slew of chart topping hits gave the band two multi-platinum albums, two platinum, and five gold records, garnering sales of more than 7 million in the US alone.
Along with the fans Ben Burnley of Breaking Benjamin shares in the excitement of sharing the spotlight with Alice in Chains, as he says: "We are so extremely excited to be hitting the road with Alice In Chains and Bush. It's such an honor to share the stage with such amazing bands that we grew up listening to and have influenced us so very much! We can't wait to see you all out there!!"
Alice in Chains will be breaking in and facing a colossal swarm of fans, after three years. This band brings in 30 years of rock-solid legacy with over 30 million albums sold. Iconic albums, classic rock hits, and more recent fan favorites like "Dirt" and "Facelift, "Rainier Fog"and "Black Gives Way To Blue", will all be part of Alice in Chains' explosive setlist. Their legendary citations speak of the breadth and depth of their influence — 18 Top 10 songs on Billboard's Mainstream Rock Tracks chart, 11 Grammy Award nominations. rank number 34 on VH1's 100 Greatest Artists of Hard Rock and is listed as the 15th greatest live band by Hit Parader.
Sean Kinney, founding member, and drummer for Alice In Chains said about the tour, "We're looking forward to finally hitting the road again this summer. It's been too long and we can't wait to get outdoors and share a night of music with our fans again."