Jones Beach Theater | Wantagh, New York
As 2023 comes greeting music fans all around the globe for big new headlining tours, legendary rockers Goo Goo Dolls aren't missing out on big nights of rock music as they gear up for the "Big Night Out" tour, teaming up with revolutionary rockers O.A.R. The tour spans across 30 venues with a special stop at Jones Beach Theater on Saturday, 5th of August 2023. Both bands released their newest studio records earlier in 2022, as they team up for the "Big Night Out" tour, you can expect them to perform new music, crowd favorites, and their biggest hits live on stage. Book your tickets now!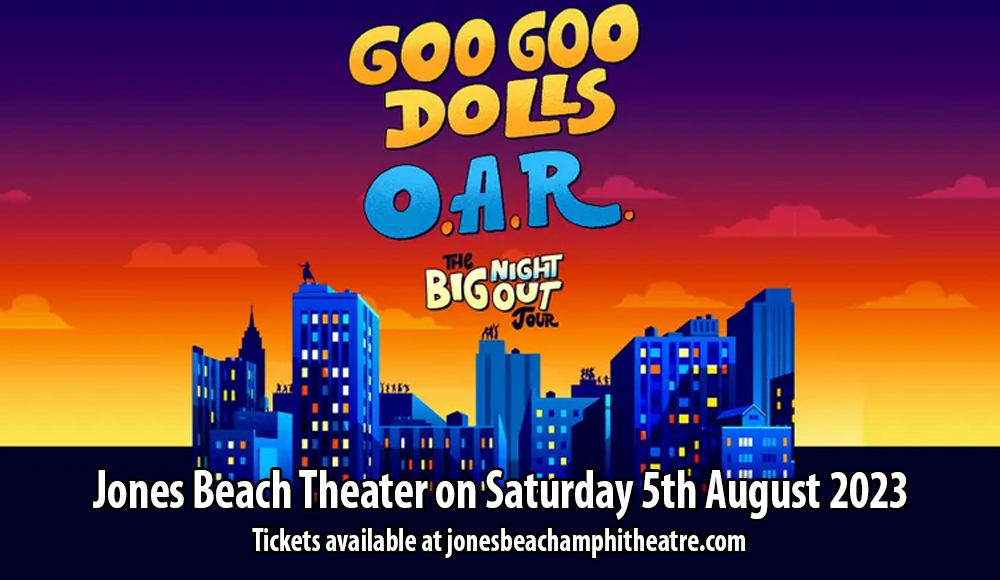 Highly acclaimed for their blockbuster global hit single "Iris", the Goo Goo Dolls made a mark in the mainstream alt-rock scene. Since then, they've been dropping LSS-worth alt-rock LPs, their latest offering being "Chaos in Bloom" released in July of 2022. Coming off fresh from wrapping up a North American tour in support of their new album, the Goo Goo Dolls are teaming up for a co-headlining "Big Night Out" tour with American rock band O.A.R.
As "Iris" surpassed a billion streams on Spotify this year, the band is geared up for big nights as they bring their acclaimed hits and new material on tour, sharing the live stage with O.A.R. who also released their new album "The Arcade" earlier this year.
"After working on separate albums in the same studio all last year, John and I realized pretty quickly how much fun we'd have on tour together," O.A.R.'s Marc Roberge shared. "We're all band guys, love being musicians, and started planning a special night that all our fans would enjoy."
For all the alt-rock fans out there, two of the industry's revolutionary bands are sharing the stage, it's something you definitely wouldn't want to miss out on!
"I'm so proud to finally be able to announce our summer tour with a great band and our friends O.A.R.," shared John Rzeznik, frontman of Goo Goo Dolls. "It's going to be an amazing night of great music for everyone so be there!"
"When everything's made to be broken, I just want you to know who I am.." Soon after the release of their 1998 7x Platinum hit single "Iris", the Goo Goo Dolls became a global nameplate as seriously talented alt-rockers. With humble beginnings as a cover band, the Goo Goo Dolls soon developed a punk-driven sound to their blend of alt-rock music. In 1995, they released their sophomore album "A Boy Named Goo", serving catchy rock anthems, becoming one of the mid-90s' most successful alt-rock records. The album features the band's first multi-platinum hit single "Name". From then on, the Goo Goo Dolls followed it up with a slew of globally-acclaimed alt-rock anthems in their succeeding albums. Their hit singles include "Slide", "Better Days", "Give a Little Bit", "Black Balloon", and "Iris".
O.A.R. rose to the scene for their highly acclaimed fifth album "Stories of a Stranger". The record features their hit singles "Love and Memories", "Heard the World", and "Lay Down". The band has released 10 studio albums and continues to be well-known for their tour and energetic shows as they continue to release their revolutionary rock records. Their new album "The Arcade" features the band's new singles "Alive" and "In the Clouds".
As legendary rockers share the stage on big nights of live music, don't miss out on the Goo Goo Dolls and O.A.R.'s "Big Night Out" tour by booking your tickets now!